We re-imagined and re-designed our mobile app to deliver a better user experience for our participants. P&A MyBenefits mobile app offers easy navigation, convenient account management options and more.
New Mobile App: What's Changing?
P&A's new mobile app has a new look and improved layout, designed to give participants a better experience and make account navigation easier.  While you may find the feel of the app different, the same valuable account information will still be available at your fingertips.  You will be able to view your benefit(s), submit claims, make a payment, enroll in direct deposit, request a new card and more.
If you have the prior version of the P&A app on your phone, we encourage you to remove it before you download the new app.  The old version of the app will not be available for use in the coming months.
So, what exactly can you do with the new mobile app?
Get Alerts
Opt-in to get the alerts you want directly through the app. Choose from the following alerts:
Wake-up notifications – get notified prior to your plan year end date to check your account balance and spend any remaining funds
Run-out period reminders – a reminder to submit claims for eligible expenses incurred during the plan year
Substantiation requests – get notified when further documentation is required to approve your Benefits Card transaction
Claim details – get notified when your claim is either partially or fully denied
Reimbursements – keep track of your claim reimbursements
Manual claim processing – get notified when your claim has entered the processing mode
You can turn alerts on and off at anytime by changing your account settings under your profile.
Use EZ Scan
Determining product eligibility just got a little easier with EZ Scan, P&A's product eligibility checker. Using EZ Scan and scan the barcode of any product to see if it's an eligible or ineligible expense.
Manage Your MyBenefits Account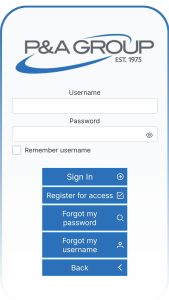 To log into your account, enter your P&A username and password.  Click "Forgot My Password" or "Forgot My Username" if you don't remember your login credentials.
When you log into the P&A Group app, your plan(s) will appear on your dashboard.  From there you can perform an account task, like view your account balance, see your claims to date and more.
To access the main menu, click the menu option in the upper left corner.  From there you can upload a claim, order a new Benefits Card and more.
Download P&A's MyBenefits Mobile App
Manage your plan(s) easily with P&A Group's mobile app – now available on the App Store and Google Play!
Questions?
Connect with P&A's Participant Support Center for additional assistance. P&A Group agents are available Monday – Friday, 8:30 a.m. – 10:00 p.mm ET online at www.padmin.com or at (716) 852-2611.