Lifestyle Reimbursement Accounts – Stats & Figures
Looking Ahead
Benefits focused on well-being for employees across different aspects of their lives – financial, physical and emotional – are becoming more important in the employee benefits landscape.   Many employers are investing money in Lifestyle Reimbursement Accounts with employees' overall health in mind.
Five Key Areas of Employee Well-Being*
Forbes identifies five key levels of employee well-being.
| | |
| --- | --- |
|   Financial Well-Being |   Overall compensation, type of retirement plan, financial wellness and education |
|   Mental Health Well-Being |   Access to an Employee Assistance Program, mental health sessions with a therapist or coach, mental health apps |
|   Social Well-Being |   Company culture, work-life balance, and type of relationships at work and outside of work |
|   Physical Well-Being |   Health insurance, wellness programs, workplace safety, availability of exercise sessions in person or virtual |
|   Career Well-Being |   Access to training and development, tuition reimbursement, internal mobility opportunities, performance reviews, coaching and mentoring |
*Source:  Forbes, "The Future of Work:  Offering Employee Well-Being Benefits Can Stem the Great Resignation"
Importance of Employee Well-Being Support Programs While Considering Next Job*
Employers are also considering how well-being benefits impact talent and recruitment efforts.  6 in 10 employees say well-being support will be a top priority when applying for new jobs.  Implementing a Lifestyle Reimbursement Account can help organizations stay competitive in a demanding job market.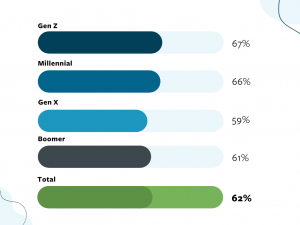 Key Findings
Gen Z and Millennials are most likely to report well-being benefits to be a top priority when applying for their next job.
Employees who work in a hybrid environment are more likely (68%) to report well-being benefits as a priority in applying for a new job.
*Source:  Forbes, "The Future of Work:  Offering Employee Well-Being Benefits Can Stem the Great Resignation"