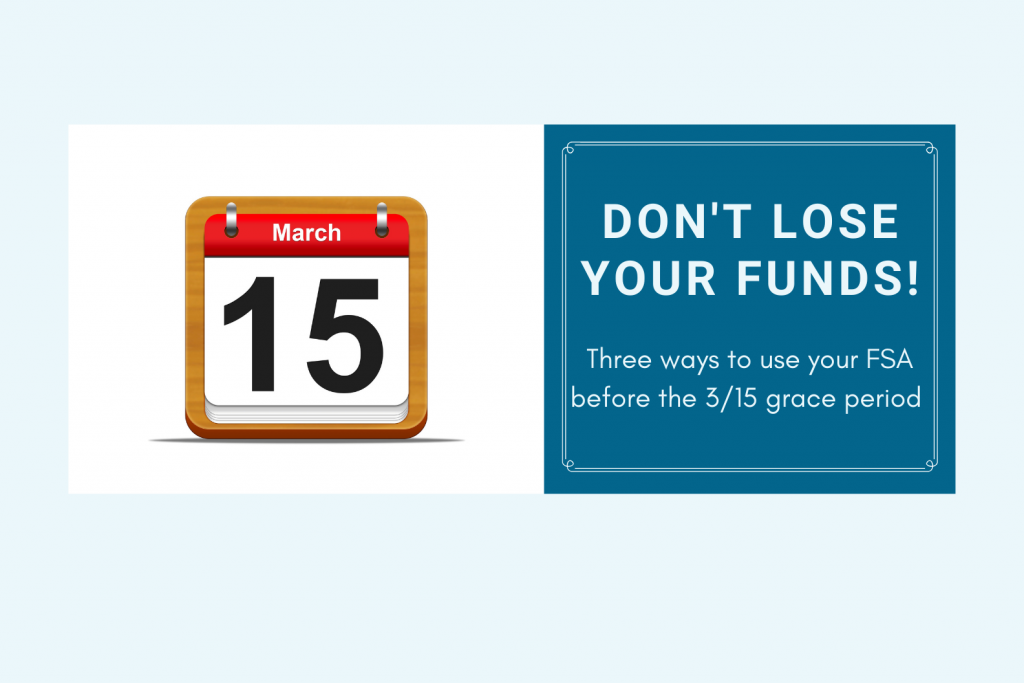 The 3/15 grace period deadline is approaching but don't panic. Whether you have a significant balance remaining or just a few dollars left, the below tips can help you exhaust your Flexible Spending Account (FSA) and make the most of your plan.
3/15 Grace Period Review
First, let's review what a grace period is. An optional provision that your employer can add to your plan, a grace period allows you additional time – 2.5 months – to incur expenses and spend your FSA money after the end of the plan year. For example, if your FSA plan is on a calendar plan year (January 1 – December 31) and offers the grace period, you have until March 15 to spend your FSA.  After March 15, your unused money will be forfeited under IRS rules. Check with your employer to see if your plan offers the grace period.
COVID-19 Relief? Double Check Your Plan
In addition to reviewing whether your plan offers the grace period, you should check if your employer made any temporary changes to your plan. With the passage of the Consolidated Appropriations Act, the IRS is allowing employers to add temporary provisions to their FSA plan. These temporary provisions include changes to the grace period and may give you additional time and opportunity to use your funds. Please double check with your employer or HR department to see if your plan has adopted any of these changes.
Tips for Using Your Funds Before the 3/15 Grace Period
Stock up on eligible healthcare items.
P&A Group's vendor partner, FSA Store, offers thousands of pre-approved discounted FSA eligible items that are ready for purchase online.  Earn points on items you purchase and get free shipping on orders $50+.  Sample items:  blood pressure monitors, pain relievers and travel essentials.
Take inventory of your dental and vision expenses.
Did you know that your Health FSA also covers dental and vision costs?  Use your FSA to purchase eligible items like glasses, prescription sunglasses and contact lens solutions.  If you're able to squeeze in an appointment to see your dentist or optician, use your FSA to pay for the cost of the visit.
Over-the-counter prescription medications and feminine care products are eligible.
OTC medications, like Tylenol and Benadryl, no longer require a doctor's prescription or Letter of Medical Necessity Form. Under the 2020 CARES Act, FSA participants can now use their FSA to purchase their OTC medications and feminine care products. Learn more.
To help you determine the right amount to contribute to your FSA annually, check out P&A Group's interactive calculator.
Submitting Claims
While it's important to use your account by the end of the plan year, it's also important to know what the deadline is to submit claims. Whether your plan has the 3/15 grace period or not, there is another deadline you should also keep in mind: the run-out period. The run-out period is your deadline to submit claims for expenses incurred during the plan year (and, grace period if your plan offers it). All FSA plans have a run-out period. For instance, if your plan has a January 1 – December 31 plan year with a 3/15 grace period, it's common to have a 3/31 run-out period.
Run-out periods can vary by employer, so double check with your HR or Benefits Department to make sure you know this important date. No matter what your FSA plan dates are, stay on top of your plan deadlines so you can use your entire Flex balance and maximize your savings.